Game development across VR and AR with Survios
Survios produces and publishes engaging, multi-platform games across popular, licensed franchises and its own original properties. The company is expanding its game development from VR into AR, bringing more features and deeper engagement to its interactive experiences.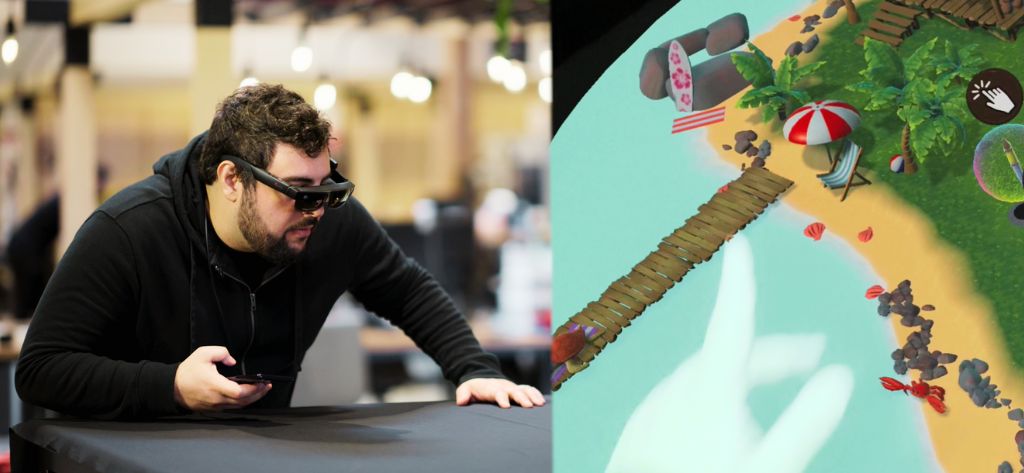 (c) Puzzle Bobble Tech Demo
Originally a hardware company, Survios pivoted to software and VR then developed Raw Data which became hugely popular on Steam. They redoubled their efforts in VR with innovations like sprint vectors and fluid locomotion to improve users' control over movement. The company has worked with a wide range of fan-favorite intellectual property including such franchises as The Walking Dead, Westworld, Creed and Rocky.
Expanding into the new frontier of AR
In looking at technology trends and user preferences, Survios began to explore incorporating AR to their game development, with all the questions that would entail. "First of all, in AR, there's no lead technology, hardware-wise," says Mike Domaguing, Senior Vice President of Partnerships and Publishing at Survios. "There are hopes and dreams, but until developers have hardware in their hands, realizing those hopes and dreams is hard. Then, there are gameplay considerations with AR. Players want to be inside the game physically, but because of hardware limitations, we have to give them the 'looking-down' perspective on the game. Finally, there's the question of where AR is going. Will it be PC- or mobile-oriented? That's as much a business decision as a technical decision." In short, Survios felt that the future of AR, especially in gaming, is very bright – although not without challenges.
Taking Snapdragon Spaces into AR game development
The company's collaboration with Qualcomm Technologies became a strong source of encouragement for their AR initiative. Survios began working with the Snapdragon Spaces™ Extended Reality SDK and decided to use it for Puzzle Bobble 3D: Vacation Odyssey. They have built a compelling game experience around the tech stack of Snapdragon Spaces, OpenXR and Unreal Engine. "In developing Puzzle Bobble for AR, we used several features of Snapdragon Spaces," says Alex Silkin, Chief Technology Officer and co-founder of Survios. "That includes Plane Detection and Hit Testing for locating a suitable surface to anchor the play area. Then we use Local Spatial Anchors to attach the play area to the real-world surface and maintain spatial consistency."
For user interaction, the game takes advantage of Hand Tracking feature so that players can manually position the play area where they want it. "Players can touch bubbles both in the menu and within the game to make selections," says Silkin. "That makes for intuitive, engaging user experience. We used Pinch gesture detection so players can confirm their choices with a simple hand gesture. Then, by pressing on the touch screen, players make the character Bob throw bubbles in the game. For that we used the Companion Controller Android application as a way to press buttons quickly and easily."

Making the most of XR development
Survios has these tips for developers who are new to XR:
Consider the Companion Controller as an additional form of input and output that is unique to Android. Survios experimented only briefly with using the phone as an input device but believes there is ample opportunity for using the phone display as an additional user interface.
Use player's head direction to aim character orientation. The studio found it as intuitive as Hand Tracking and less cumbersome than obliging players to have their hands up in the playing area all the time.
Have a way – other than installing on the hardware – to quickly develop and test your core application mechanics. An example is to test core functions on a simple PC with a mouse and keyboard.
AR experience highlights:
Developing more compelling games. Survios sees AR as an avenue for deeper engagement and better storytelling.
Making the transition into AR. Survios is keen to extend its technical reach to more areas of extended reality.
Enabling content for more devices Snapdragon Spaces is Survios path to reducing friction in going between AR and VR and bringing more enjoyment to players.
"We enjoy developing in Snapdragon Spaces because Qualcomm Technologies is committed to innovation and technology. They listen to developers, deliver features that developers want and give developers a good tour of those features. We work on a future project to enable creators to bring amazing experiences to fruition – that's why our work with Snapdragon Spaces is important to us."
– Mike Domaguing, SVP Partnerships and Publishing, Survios