SNAPDRAGON SPACES™ XR DEVELOPER PLATFORM
Shape the future of headworn XR with Snapdragon Spaces
Develop immersive experiences for XR glasses, stretching the limits of reality.

Get started
New Era of Spatial Computing
The Snapdragon Spaces™ platform empowers developers to unlock the full potential of wearable XR using industry-leading technology, a cross-device SDK, and an open ecosystem. We strive to build an accessible XR ecosystem, enabling developers to pioneer innovative experiences that will lead the next generation of immersive technology.
Introducing Snapdragon Spaces
Boundless Innovation with Snapdragon Spaces™
Harnessing the power of Snapdragon, we enable developers to create immersive experiences for XR glasses that adapt to any environment and transform how we connect with the spaces around us.
Learn more about our SDK
Build the reality you imagine
Qualcomm Technologies provides over 14 years of XR research and innovation for you to lean in to. Start developing 3D apps for XR glasses that benefit from robust machine perception, environmental and user understanding.
Open ecosystem, endless possibilities
Our ground-up XR platform supports OpenXR. Join us to build an ecosystem that includes global operators, smartphone OEMs, 3D engines, and immersive XR content that will help bring the next generation of XR headsets to market.
Accelerate your journey into XR
Bring your XR ideas to life quicker with familiar 3D tools, workflows, and app portability of 3D engines from Epic Unreal Engine 4 and Unity AR Foundation.
Our Partners: unleashing the power of an open XR ecosystem
Ecosystem
Featured Developers
Kickstart your ideas with Snapdragon Spaces Pathfinder Program
Snapdragon Spaces Pathfinder is designed to help XR innovators get early access to the technology, project funding, co-marketing, promotion, and hardware development kits – everything you need to succeed.
Learn more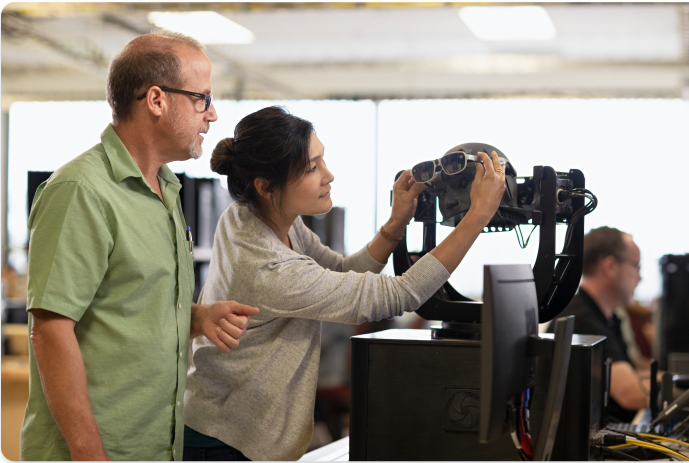 Stay updated with Snapdragon Spaces newsletter
Sign up to be the first to hear about product updates and XR news
Subscribe